Converting from one email client to another is time-consuming and takes a lot of effort. But it doesn't have to be as you can use the Stellar Converter for MBOX tool. Whether you want to convert from Thunderbird, Mozilla Mail, Eudora, Gnu Mail, or any other MBOX supported email platform, you can do so using this tool.
Stellar Converter for MBOX was designed for converting MBOX files into MS Outlook importable using the PST format. As such, users can save time while enjoying the impressive features of this MBOX to PST converter tool. And that's not all; the developers also offer a thirty-day free trial and a money-back guarantee to make users enjoy every bit of using this software.
If you are not sure whether or not to use this converter, read this review to help you make an informed decision.
Requirements for Installing Stellar Converter for MBOX
Users must meet specific basic system requirements to install and use this converter. We recommend that you ensure you have:
A CPU from the Pentium series (Minimum)
Windows 7, 8, 8.1, and 10 operating system
Microsoft version 2003 and above
A RAM of at least 2GB but for the best performance, a 4 GB ram is recommended
Free available storage space of 250 MB (Minimum)
You have to launch it and choose your email client from the available options to use this tool. Navigate to Select File and choose the MBOX file. You can click Find File if you don't know where your file is.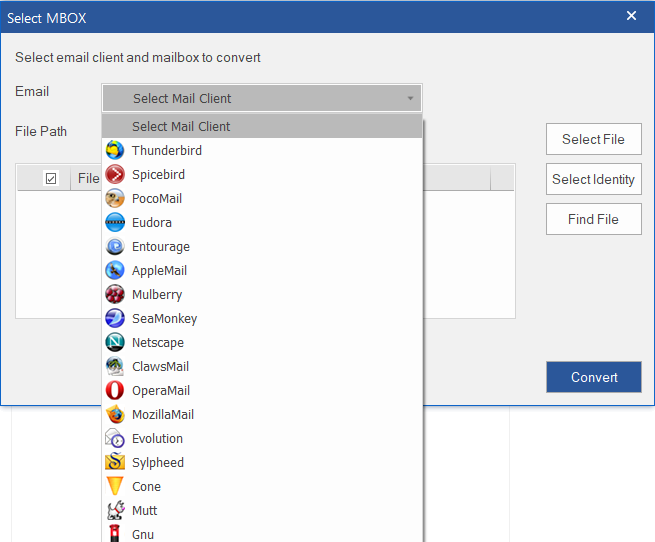 Then, click convert to start the conversion, and once done, check the mailbox items for a preview. As simple as that.
Advantages of Stellar Converter for MBOX
The main benefit of this converter is its ability to convert MBOX contents into PST files. Therefore, you can avoid technical glitches when moving from one email client to another. However, the tool also has other advantages that are hard to ignore. These include:
A User-Friendly Interface
We are often hesitant to use software products as we lack the appropriate knowledge to do so. However, you don't have to be tech-savvy to use this tool. Anyone, even those who haven't used an email client conversion tool, can use Stellar Converter easily.
It features a sleek, easy-to-use interface that has minimal details to avoid confusing users. Also, the conversion process is straightforward. Once you select the email client from the drop-down menu, you only have to click the convert command to change it into a PST file.
Additionally, the overall migration takes only a few minutes. Therefore, it won't waste your time.
Speedy and Excellent Conversion
The software scans the entire email content to extract the file and converts it quickly. Although the scanning takes some minutes, the conversion process is pretty fast.
You can be doing other things while the tool scans and converts MBOX to PST files. Also, users can preview the scanning before the contents are converted to ensure they have the correct files.
Additionally, one can conduct several conversions at the same time. The software doesn't lag since files are directly imported. Plus, users can import email client files in several formats. So, you don't have to feel limited.
Boosts Your Performance
Stellar Converter for MBOX validates every mailbox. The software accounts for emails, journals, calendar events, contacts, and other attachments. Regardless of the email client, the converter maintains the folder hierarchy. Therefore, it allows easy conversion to PST.
But, please remember to save your converted files from the Main Menu. The recent version of this software includes the Apply Filter feature that only allows you to convert the selected content. As such, it saves your time and effort, which boosts your productivity.
Compatible with Office 365
The technician version allows you to convert MBOX files on Office 365 using this converter tool. But you have to apply the correct credentials for that to work. Also, note that it can convert imported files into different formats like MSG, HTML, RTF, PDF, and others.
How Much Does the Software Cost?
You can download the software from its official website for free. The free version allows users to scan, convert and preview MBOX file data. But, you can't save the converted files until you activate this software.
There are two pricing plans featured; corporate and technician. It's best to buy this software with an activation key.
We recommend the free trial option, which features a money-back guarantee if you are starting on this software. Then, you can later upgrade to the paid version if you are impressed by the software's performance and features.
Final Thoughts
Stellar Converter for MBOX is an excellent and effective tool for PST files. It has various impressive features like batch conversion, selective conversion, etc., that are valuable to users. It's among the best converters in the market for both amateur and advanced users.